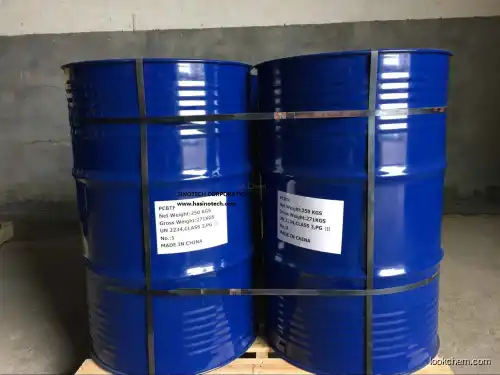 PCBTF , P-Chlorobenzotrifluoride CAS NO.98-56-6
MSDS/COA Download

FOB Price: USD: 1.00-1.00 /Metric Ton Get Latest Price
Min.Order: 1 Metric Ton
Payment Terms: L/C,D/A,D/P,T/T,Western Union,MoneyGram,Other
Available Specifications:

99.5%(1-10)Metric Ton

Keywords
98-56-6
4-chlorobenzotrifluoride
PCBTF
Quick Details
ProName: PCBTF , P-Chlorobenzotrifluoride
CasNo: 98-56-6
Molecular Formula: C10H9F9O3
Appearance: colorless transparent liquid
Application: Syntheses Material Intermediate ;Pharm...
DeliveryTime: 10days
PackAge: 250kg/Iron Drum
Port: Shanghai,Qingdao
ProductionCapacity: 200 Metric Ton/Day
Purity: 99.00% min
Storage: stores in a well-ventilated, cool, dry...
Transportation: By sea
LimitNum: 1 Metric Ton
CAS#: 98-56-6
Superiority
Identification:
Chemical Name: P-Chlorobenzotrifluoride(PCBTF)
Synonym: PCBTF; 4-chlorobenzotrifluoride; p-(trifluoromethyl)chlorobenzene; Para Chlorobenzotrifluoride;PCBTF
CAS No.: 98-56-6
Property: PCBTF is colorless transparent liquid with aromatic odor, irritative.
Application:Syntheses Material Intermediate ;Pharmaceutical Intermediates
Package:In plastic barrel, 250kg/barrel.
Storage: P-Chlorobenzotrifluoride stores in a well-ventilated, cool, dry area, out of direct sunlight. Keep containers tightly closed
when not in use .
Specification:
P-Chlorobenzotrifluoride(by GC): 99.00% min
o-Chlorobenzotrifluoride( by GC): 0.50% max
m-Chlorobenzotrifluoride(by GC): 0.40% max
Dichlorobenzotrifluoride(by GC): 0.10% max
Water(by Karl Fischer): 150mg/kg max
Acidity, (spec. ion probe): 3 ppm max.
PH: 5-6
Color (APHA): 20 max
Specific gravity: 1.334
Boiling point: 139.3°C
Flash point: 47°
Details
4-Chlorobenzotrifluoride Basic information
Product Name: 4-Chlorobenzotrifluoride
Synonyms: 1-(Trifluoromethyl)-4-chlorobenzene;1-chloro-4-(trifluoromethyl)-benzen;1-chloro-4-(trimethyl)benzene;alpha,alpha,alpha-trifluoro-4-chlorotoluene;Benzene,1-chloro-4-(trifluoromethyl)-;para-chloro-alpha,alpha,alpha-trifluorotoluene;para-Chlorobenzotrifluoride;para-chlorotrifluoromethylbenzene
CAS: 98-56-6
MF: C7H4ClF3
MW: 180.55
EINECS: 202-681-1
Product Categories: Aromatic Hydrocarbons (substituted) & Derivatives;Aromatics Compounds;Aromatics;Mutagenesis Research Chemicals;VOC Exempt Solvent;alkyl chloride
Mol File: 98-56-6.mol
4-Chlorobenzotrifluoride Structure
4-Chlorobenzotrifluoride Chemical Properties
mp -36 °C
bp 136-138 °C(lit.)
density 1.353 g/mL at 25 °C(lit.)
refractive index n20/D 1.446(lit.)
Fp 117 °F
storage temp. Flammables area
Water Solubility 29 ppm (23 ºC)
Merck 14,2126
BRN 510203
Stability: Stable, but heat and light sensitive. Reacts vigorously with oxidizing agents. Flammable. Incompatible with sodium dimethyl sulfonate, strong bases.
CAS DataBase Reference 98-56-6(CAS DataBase Reference)
NIST Chemistry Reference Benzene, 1-chloro-4-(trifluoromethyl)-(98-56-6)
EPA Substance Registry System Benzene, 1-chloro-4-(trifluoromethyl)- (98-56-6)
Safety Information
Hazard Codes Xi,F,N
Risk Statements 10-36/37/38
Safety Statements 26-36-24/25-16-36/37/39
RIDADR UN 2234 3/PG 3
WGK Germany 2
RTECS XS9145000
Hazard Note Flammable/Irritant
HazardClass 3
PackingGroup III
HS Code 29036990
Hazardous Substances Data 98-56-6(Hazardous Substances Data)