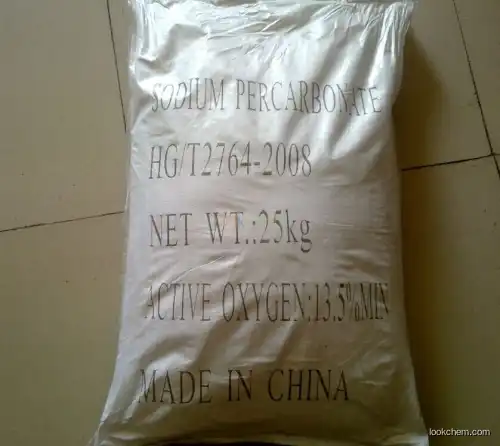 Sodium Percarbonate granule CAS NO.15630-89-4
MSDS/COA Download

FOB Price: USD: 1.00-1.00 /Metric Ton Get Latest Price
Min.Order: 1 Metric Ton
Payment Terms: L/C,D/A,D/P,T/T
Available Specifications:

13.5(1-2)Metric Ton

Keywords
Sodium Percarbonate
Sodium carbonate hydrogen peroxide
Sodium carbonate peroxide
Quick Details
ProName: Sodium Percarbonate granule
CasNo: 15630-89-4
Molecular Formula: 2Na2CO3?3H2O2
Appearance: White flowing granule
Application: Sodium percarbonate has a wide range o...
DeliveryTime: prompt shipment
PackAge: Net weight 25kg/ composite woven bag l...
Port: China Main Port
ProductionCapacity: 100 Metric Ton/Month
Purity: Effective Active Oxygen[O]% : ≥13.5
Storage: Stored in the dry and cooling place wi...
Transportation: BY SEA
LimitNum: 1 Metric Ton
Grade: Industrial Grade
CAS No.: 15630-89-4
Superiority
Chemical Name: Sodium Percarbonate
Synonyms: Sodium carbonate peroxide; Sodium carbonate hydrogen peroxide; sodium carbonate peroxyhydrate
CAS No.: 15630-89-4
Molecular Formula: 2Na2CO3·3H2O2
Specifications:
Appearance: White flowing granule
Effective Active Oxygen[O]% : ≥13.5
Iron Content, ppm : ≤20
Bulk density g/l : 800-1050
Free water%: ≤2
pH(3% Aqueous Solution ): 10-11
Application:
Sodium percarbonate has a wide range of applications in various cleaning products and detergent formulations including heavy duty laundry detergents; all fabric(Except Silk and wollens) bleaches, wood deck bleaches, textile bleaches and carpet cleaners.
Details
15630-89-4 Sodium carbonate peroxide
product Name
Sodium carbonate peroxide
Synonyms
Sodium carbonate hydrogen peroxide; Hydrogen peroxide-Sodium carbonate adduct; ; sodium carbonate hydrogen peroxide (4:2:3); sodium carbonate - hydrogen peroxide (2:1:1); Sodium percarbonate
Molecular Formula
2Na2CO33H2O2
Molecular Weight
140.0031
InChI
InChI=1/CH2O3.2Na.H2O2/c2-1(3)4;;;1-2/h(H2,2,3,4);;;1-2H/q;2*+1;/p-2
CAS Registry Number
15630-89-4
EINECS
239-707-6
Molecular Structure

Boiling point
333.6°C at 760 mmHg
Flash point
169.8°C
Vapour Pressur
2.58E-05mmHg at 25°C
Hazard Symbols
O:Oxidizing agent;
Xn:Harmful;
Packing& Storage:
Net weight 25kg/ composite woven bag lined with polyethylene bag.
Stored in the dry and cooling place with good ventilation and should be avoiding hot and sunshine.